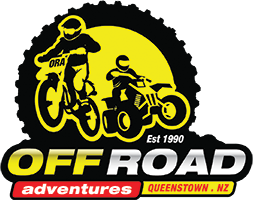 From Skippers Canyon, to Nevis Valley & all the secret spots in between, let this family of champions take you deep into the beautiful heart of NZ. You couldn't be in better hands – get ready for 'The Ride of your Life'. 
Tailor made half day tour 
Book online and we'll be in touch to discuss your needs, from mellow rides with incredible views to rocky climbs and river crossings – we've got access to it all. Our guides have been taking riders into these hills for over 30 years, their knowledge on the history of the gold mining days are only outclassed by their ability to get you there. 
Solo rider tours are available upon request depending on the season, call for more details. 
$599 
Price per person. Min 2 people
Intermediate/advanced riders with road bike license