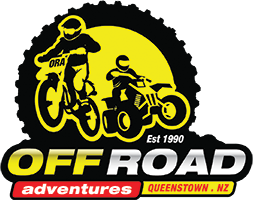 Whether you are a couple, family or group looking to tackle some of the regions most spectacular and fun off road terrain
The Original and still the best!
Let's Ride
DIRT BIKE TOUR

Farm hackers and road riders, it's time to learn the art of trail riding  – if you've got clutch control and are competent on 2 wheels but want to progress and challenge yourself – this is for you.

On our 600acre property that climbs high above Queenstown, we'll challenge you on ever increasingly difficult terrain until you've realised you're capable of a lot more than you thought! Exciting, scary, fun, adrenaline-inducing – this one is for those that want to RIDE! 
$
319*
per person (price increase 1/10/23)
Suitable for intermediate riders

Gorge Base & Adventure Park
* Book online for exclusive savings
Out There & Back
DIRT BIKE TOUR

For skilled riders who are seeking an epic ride in the mountains surrounding Queenstown, we know all the secret spots & have the expertise, experience, equipment and knowledge to take you places you didn't think possible.
Using registered late-model WR250/450's, This option is a guided expedition out to the best spots, not a fang on a farm bike. License and experience essential.
For Full Day & Multiday adventures, visit
https://dirtbiketours.nz/
Suitable for intermediate / advanced riders

Exclusive Locations decided after consultation

Must have road bike license
* Book online for exclusive savings
Learn 2 Ride
DIRT BIKE TOUR

Ever wanted to learn how to scrub it like Bubba? Us too.. but we can teach you how to ride a dirt bike pretty well.

This 1.5hr tour is designed to teach you the basic aspects of clutch/throttle control, balance and weight placement when riding dirt bikes – suited to confident, physically fit & persistent adventure seekers. There won't be any hill climbs or gap jumps on this one, but the photos will look sick & you'll have learned a new skill by the end of it! 
$
319*
per person (price increase 1/10/23)
* Book online for exclusive savings