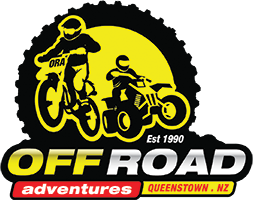 This 1-hour tour is designed for those looking for excitement and a challenge. Using 250cc-400cc Sports/Race Quads, we'll guide you through a series of challenging hill climbs to assess your competence before heading up into the mountains overlooking Queenstown & the Shotover River – great fun, challenging terrain and epic views! 
Tackle the hill, earn the view!  
We'll start off in town where you'll check in at our shop at 61a Shotover Street before making our way just 5 minutes out of town to our exclusive 650a Adventure Park, here we'll get kitted up and briefed on the bikes before the initial training commences – a series of increasingly challenging tracks and trails allows us to build your confidence and skill set safely while we assess your competence for the challenge ahead – the climb to the top*! Once comfortable on the machines, our guides will pick and choose which tracks will be the most fun as you follow them up high above Queenstown where you'll be rewarded with the most epic views of Queenstown town center, the Shotover river & Coronet Peak. 
Full riding gear is provided including MX full face helmet, gloves, wet weather clothing & goggles. 
*For beginner riders and children under 14, please call us to check availability & a break down of what we're able to offer.
$219 
Price per person. Min 2 people.
10am & 1pm during Winter months